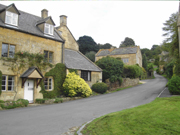 VITA Digital Productions produces a unique series of European Virtual Walk DVDs that actually makes the time spent on your elliptical trainer or other cardio machines enjoyable! And with over a dozen titles to choose from, you can experience world travel while staying fit and healthy.
Why not exercise tomorrow by walking in England's quaint Cotswold Villages - or maybe along Italy's beautiful Amalfi Coast - or possibly in London? We have a growing list of Virtual Experience DVDs from which to choose.
Filmed with professional television cameras and SteadicamTM camera stabilization equipment, these Virtual Experience Scenery DVDs will take the viewer to some of the most historic and beautiful locations in Europe.
Why not exercise tomorrow in Rome - or in Venice - or along the Amalfi Coast - or in London - or in some quaint English Villages? The choice is yours to make. Just click on the "Purchase DVDs Here" link on the upper right.